Don't take our word for it, read what our customers have had to say about United Concrete & Construction.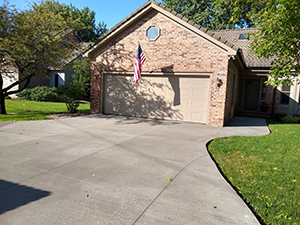 Tim and team did a great job on the new drive way.
— David L., Menasha, WI
Great job guys!! This crew did an awesome job. They were professional and hardworking - even in the high heat. Would recommend them to anyone!
— Dave & Ann, Appleton, WI
Please extend our thanks to all the crew that worked on our garage / driveway project. We expected it to look great but we were so impressed with the manner in which they worked. Everyone was so courteous and respectful of our property, working around all of our plans! When someone came back and cleaned up the site including wiping off the siding and screens it was beyond our expectations.
— Jan & Dave, WI
Thanks for the great job on my driveway and sidewalk. Your crew was well coordinated, worked hard and was friendly. I will definitely recommend you in the future as the opportunities present themselves.
— Greg E., Greenville, WI
Just wanted to say how pleased we are with the work your company has done. We were also impressed with the work ethic of your crew. I would gladly provide a recommendation for your work if you ever need one.
— Marie H., Appleton, WI
Thanks for a great job! We are very happy with our new garage & concrete. We would highly recommend your crew and quality workmanship.
— Jerry & Judy W., Appleton, WI
Steve & I would like to say thank you, to you and your crews for a great job on our new garage and driveway. We feel, Al (Carpenter Crew), who worked on the garage with you, did a great job! He is a good and very hard worker. And what a nice guy! You have a very good crew working for you!
— Steve & Bonnie G., Neenah, WI
Just wanted to drop you a note saying you and your crew did an outstanding job on my driveway. Your guys were here on time with more than a full crew. I especially appreciate you going above and beyond the call of duty by taking care of digging the basketball pole in, that was great. The driveway looks great & is in heavy use by the neighborhood pro basketball wannabes. If you ever need a reference for a potential customer don't hesitate to have them talk to me.
— D. D., Appleton, WI
Just a note, to thank you for doing a super job on replacing our driveway. Our thanks to the guys that work for you. They got here, did the job, and cleaned up in record time. They worked steady – no sitting around, no breaks. They deserve a big thank you. We have been told by everyone that sees the new driveway how good it looks. We are being approached by several people to find out who did the work. We have told about seven different people your name. We will recommend your work to anyone who asks. Once again, thank you for a super job.
— Don & Donna E., Appleton, WI
We just wanted to thank all of you, one more time, for the fine job you did with our new garage. Your suggestions were appreciated very much; we are extremely pleased with the finished product. Your crew was always friendly, and polite. It was a pleasure to work with a company that knows their business and can complete a project within the agreed upon time frame and anticipated cost range. We won't hesitate to recommend United Concrete & Construction to anyone thinking about building a garage. We are confident they would be as pleased with the final results as we are.
— Craig & Wendy M., Larsen, WI
You and your men did a great job on our decorative patio. We receive so many compliments on how nice it looks. Thank you so much.
— Gary & Judy S., Appleton, WI
Thank you for the great work you did on the garage. I'll enjoy working in the new garage.
— Al R., Hortonville, WI
My wife and I wish to express our appreciation for the excellent job your crew did on replacing our driveway. They were very professional and wasted no time and cleaned up when done. They also were cognizant of adjacent landscaping and did not do any damage to flowers or shrubs.
— Donald C., Menasha, WI
Thanks for the job well done! You & your crew were very professional and easy to work with from start to finish. The end result has exceeded our expectations, it looks awesome! If you would like to share the results with future clients, we would be glad to have them view our patio. Please pass on our appreciation to your crew, they do great work.
— Mike M., Appleton, WI